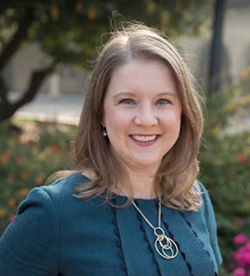 Dr. Jennifer Dawson
Senior Manager for Functional Safety, Toyota Research Institute (TRI)
Dr. Jennifer Dawson is responsible for developing and verifying the safety case for the mechanical, electrical, and software systems used in TRI's autonomous driving technology. She has over 15 years experience in mechanical engineering and robotics. Prior to joining TRI, Dawson was Head of Safety at Nuro, and before that Technical Director at Maxar Technologies where she led technical teams in building geosynchronous communications satellites and robotic servicing satellites. Dawson holds a doctorate in Mechanical Engineering from Stanford and has been recognized with the SSPI Promise Award and the Stevie Award for Women in Business.
---
Dr. Chris Gerdes
Director Center for Automotive Research at Stanford (CARS), Dynamic Design Lab, Stanford
Dr. Chris Gerdes is a Professor of Mechanical Engineering at Stanford University and Director of the Center for Automotive Research at Stanford (CARS). His laboratory studies how cars move, how humans drive cars and how to design future cars that work cooperatively with the driver or drive themselves. When not teaching on campus, Gerdes can be found at the racetrack with students trying out latest prototypes for the future. Gerdes and his team have been recognized with a plethora of awards including the Presidential Early Career Award for Scientists and Engineers.
From February 2016 to January 2017, Gerdes served as the first Chief Innovation Officer at the United States Department of Transportation (USDOT). In his role, he worked with Secretary Anthony Foxx to foster the culture of innovation across the department and find ways to support transportation innovation taking place both inside and outside of government. Gerdes is a co-founder of truck platooning company Peloton Technology and served as Peloton's Principal Scientist before joining USDOT.
---
Mr. Matthew Lipka
Head of Policy, Nuro
Matthew Lipka is Head of Policy at Nuro, a robotics company building and deploying fully autonomous, on-road vehicles in a last-mile delivery service. He works with lawmakers, regulators, and advocates on autonomous vehicle policy. Nuro is a robotics company building and deploying fully autonomous, on-road vehicles in a last-mile delivery service, with operations in Texas, California, and Arizona.
---
Mr. Joe Moye
CEO, Beep
Joe Moye has over 30 years of experience as a business executive and entrepreneur across the technology industry serving both the private and public sectors. Before joining Beep, Moye was the General Manager of the Public Sector Business Unit and President of the Software Division for Virtustream, a leading enterprise cloud services and software enterprise. He was a member of the executive team which successfully integrated the business, post-acquisition, into Dell Technologies. Prior to that, Moye served as President of Blackbaud's (BLKB) Enterprise Software Group where he led the transformation of the group's migration to a leading SAAS platform and business model. Moye also previously held the position of CEO for Capgemini's U.S. Public Sector Company where he led multiple strategic transformation programs for the Departments of Transportation, Defense, Homeland Security and Agriculture.
He originally founded Gazelle Consulting, a branded leader of strategic services in data modeling, data enrichment and analytics for the financial services industry. This business was acquired by Adjoined Consulting and ultimately by Capgemini in 2006. Moye holds a Bachelor of Science degree in Business Administration from Florida State University.
---
Chris Mullen
Uber Advanced Technologies Group
Chris Mullen is the Uber Advanced Technologies Group (ATG) Safety Standards Director, leading a team of engineers and data scientists to determine safety standards, metrics, and methods for ATG's technology and partners. Prior to joining ATG, Ms. Mullen was Vice President of Research and Development for Solera, Inc., responsible for creating an advanced automotive repair research and training center, focused on development and training of welding, electromechanical systems, paint and refinish, heavy duty truck repair, and insurance estimation.

Ms. Mullen was the Director of the Technology Research Division at State Farm, where she was responsible for auto and building technology research units, automobile manufacturer relations, the Vehicle Research Facility, and the Technology Research and Innovation Laboratory. At State Farm, she focused on vehicle advanced technology, functionality, reparability, and occupant and highway safety, as well as building safety, structure, and durability. Ms. Mullen also held engineering management positions for technical and regulatory affairs with Toyota Motor North America and Nissan North America, focused on crashworthiness regulation and biomechanics research.
Ms. Mullen's industry board positions include the Intelligent Transportation Society of America, Chair of the Leadership Circle of Mcity at the University of Michigan, Association for the Advancement of Automotive Medicine Board of Directors and Executive Committee, Chair of the Industry Advisory Board for the National Science Foundation's Center for Child Injury Prevention Studies, chaired the Alliance of Automobile Manufacturer's Biomechanics Committee, and was a Board Member for the engineering departments of two universities.
Dr. Sandeep Neema
Program Manager, Information Innovation Office (I20)
Dr. Sandeep Neema joined DARPA in July 2016. Prior to joining DARPA, Neema was a research associate professor of electrical engineering at Vanderbilt University, as well as a senior research scientist at the Institute for Software Integrated Systems, also at Vanderbilt University. During his career at DARPA, Neema has participated in numerous DARPA initiatives such as the Adaptive Vehicle Make, Transformative Apps, and Model-Based Integration of Embedded Systems programs.
Neema's research interests include cyber physical systems, model-based design methodologies, distributed real-time systems, and mobile software technologies. He has authored and co-authored over a hundred peer-reviewed conference proceedings, journal publications, and book chapters. Neema holds a doctorate in electrical engineering and computer science from Vanderbilt University, a master's in electrical engineering from Utah State University, and a bachelor of technology degree in electrical engineering from the Indian Institute of Technology, New Delhi, India.
---
Mr. George Nicols
Advanced Technology Standards Engineer, Technical Standards Group, Toyota Motor North America
Mr. George Nicols is Chairperson of SAE's On-Road Automated Driving Committee. In this role, he contributes to all of the Committee's Task Forces. In addition, he participates on other SAE Committees to support consistency and communication. Within Toyota's Sustainability & Regulatory Affairs business group, Nicols is responsible for standards involving vehicle automation and electric/hybrid vehicle battery technologies. His previous professional experience includes vehicle safety regulation/certification, passive safety crash testing, and ballistic missile accuracy analysis. Nicols has a bachelor's degree in aerospace engineering from the University of Michigan and a master's degree in mechanical engineering from Kettering University.
---
Mr. Matthew Schwall
Head of Field Safety, Waymo
Matthew Schwall is the Head of Field Safety at Waymo. He focuses on the safety of Waymo's current fleet of self-driving vehicles and Waymo's work with public safety professionals, including first responder training. Before joining Waymo, Schwall was the Director of Field Performance Engineering at Tesla and worked as a consultant analyzing motor vehicle crashes. He obtained his Ph.D. from Stanford, where his research focused on automotive fault detection.
---
Dr. Chris Urmson
Co-founder and CEO, Aurora
Dr. Urmson founded Aurora Innovation with Drew Bagnell, Uber's former autonomy and perception lead, and Sterling Anderson, the former director of Tesla Autopilot. Prior to co-founding Aurora, Urmson led Google's self-driving car project (now known as Waymo). Urmson received his PhD from Carnegie Mellon University in 2005. While earning his PhD, Urmson's technical leadership was critical in the development of his team's robotic vehicles that participated in the DARPA Grand Challenges in 2004 and 2005, and the Urban challenge in 2007. Urmson received his Bachelor of Engineering from University of Manitoba in 1998.
---