To encourage greater uniformity, the National Highway Traffic Safety Administration (NHTSA) and the Governors Highway Safety Association (GHSA) cooperatively developed a voluntary data collection guideline in 1998. The MMUCC guideline identifies a minimum set of motor vehicle crash data elements and their attributes that States should consider collecting and including in their State crash data system.
Document
MMUCC 5th Edition Guideline
Download
The MMUCC 5th Edition is the result of an 18-month collaboration between NHTSA, the Federal Highway Administration (FHWA), the Federal Motor Carrier Safety Administration (FMCSA), the National Transportation Safety Board (NTSB), the GHSA, and subject matter experts from State DOTs, local law enforcement, emergency medical services, safety organizations, industry partners, and academia. The traffic records community and general public also contributed through external forums (Federal Register) and at the 2016 Traffic Records Forum.
Changes to MMUCC
MMUCC no longer defines how data elements should be collected (at scene/linked or derived). States are encouraged to link or derive wherever possible to minimize the impact on law enforcement.
Following State best practices, MMUCC now includes Fatal, Large Vehicles and Hazardous Materials, and Non-Motorist crash data sections; these are only completed if applicable. The Model Minimum changes based on the circumstances instead of a one-size-fits-all approach.
A new type of data element—contained in the Dynamic Data Elements section—is introduced for the first time to capture data on topics that are changing rapidly. Dynamic data elements may change more frequently than each edition (every 5 years).
Twenty Years and Counting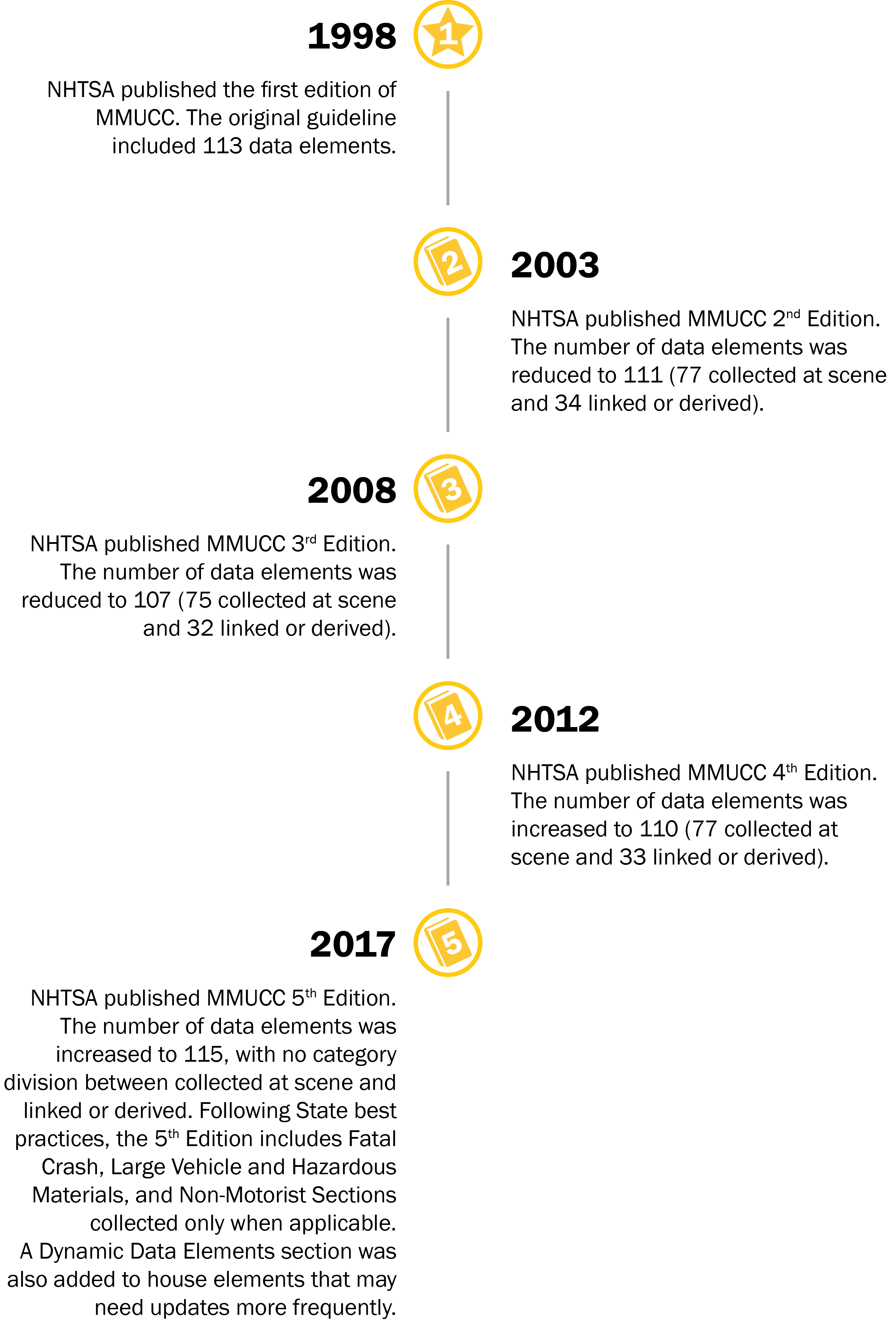 Have questions about MMUCC?
If you have questions or wish to provide feedback, we'd like to know.
Safety Starts with Crash Data
Law enforcement efforts to collect quality crash data is critical to local, regional, State and national safety programs in engineering, enforcement, EMS and education.
It All Starts With You
We get it. You have countless demands on your time and attention, and they only increase each year. Prioritizing your time is part of the job.
For our part, we'd like to help make the task of completing crash reports as painless as possible, and explain why they – and your role in them – are so critical to EVERYTHING we do.
Safety Starts with Crash Data. There is almost no safety program, initiative, countermeasure or analysis that can be done without it. Your efforts investigating and reporting crashes form the foundation of all safety programs.
MMUCC 5 Crash Report Form
The MMUCC crash report form visualizes all 115 elements of the 5th Edition, including the new sections for fatal, large vehicles and hazardous materials and non-motorist sections.
Managing Data
The roles of State crash database administrators, managers, and technicians are vitally important to the development and deployment of effective traffic safety countermeasures. A quality crash data system that is timely, accurate, complete, uniform, integrated and accessible, benefits a broad spectrum of data users. Adopting the MMUCC 5th Edition Guideline can help improve the quality of crash data that are essential to improving highway safety.
New Features of MMUCC 5th Edition
Technical Assistance
Application
Download
The NHTSA Traffic Records Team currently offers two programs to States specifically geared to evaluating and improving a State's crash data system - the Crash Data Improvement Program (CDIP) and MMUCC Mappings.
The CDIP technical assistance program examines the quality of a State's crash data and provides the State with specific recommendations to improve the quality, management and use of that data to support safety decisions. The program includes a complete MMUCC mapping of the statewide crash database to the 5th Edition. This program is free to the States and made available on a first-come, first-served basis given available funds.
The MMUCC Mapping technical assistance program examines the State's crash database, police crash report, data dictionary and law enforcement instruction manual to determine alignment with MMUCC at the attribute and element level. SMEs follow the updated mapping rules (Mapping to MMUCC 5th Edition, page 125, MMUCC 5th Edition); first published in DOT publication DOT-HS-812-184.
Data-Driven Decisions
Crash Data users are those that reap the benefits from the data collected and stored by State and local governments. For many, it helps effectively target and identify highway safety issues. These users also make decisions for business planning, research, and enforcement efforts.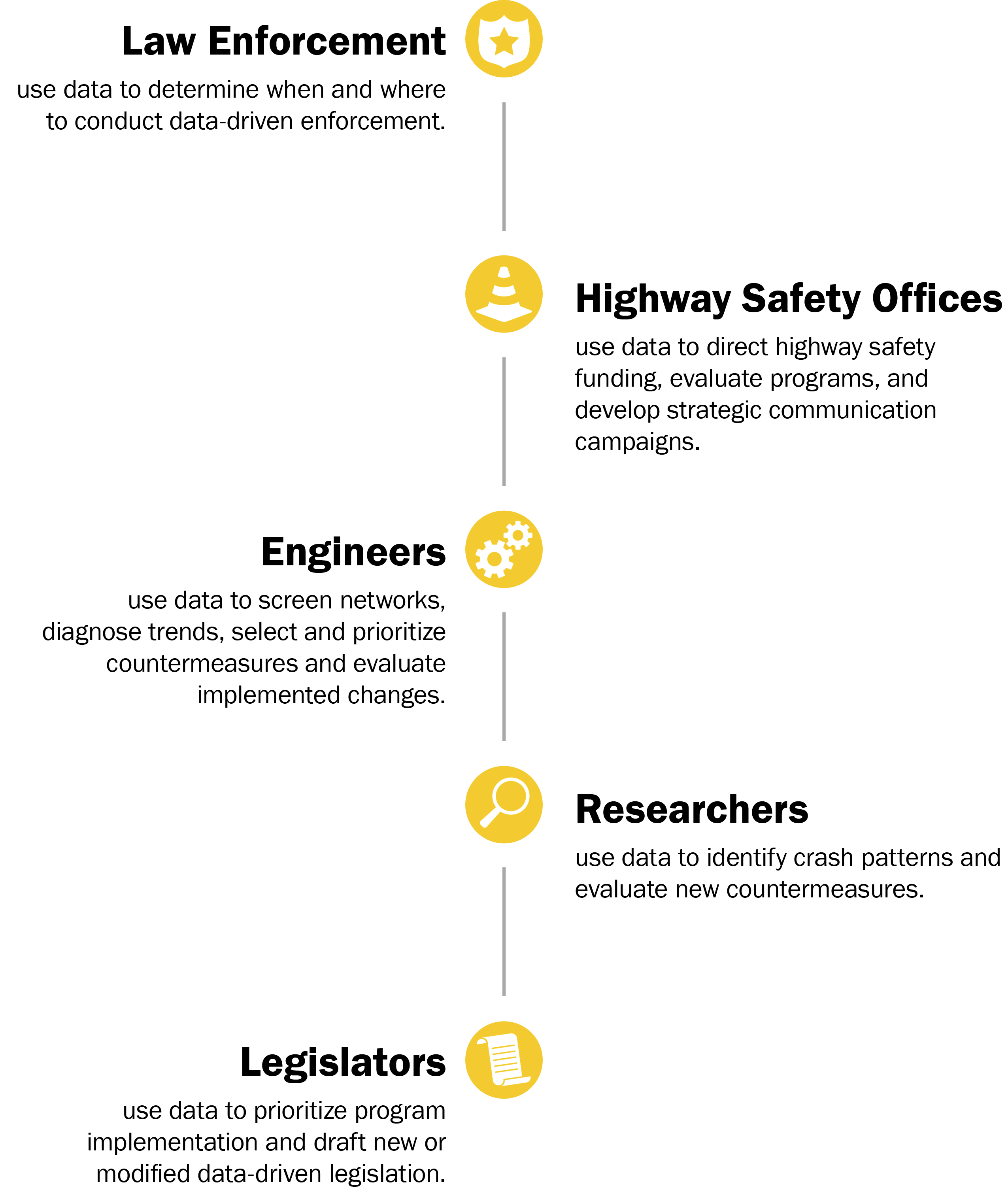 Safety Starts with Crash Data
Quality, uniform crash data forms the foundation for improved traffic safety through analysis, research, data-driven decisions and implementation.
37461.000
2016 Fatalities (source: FARS)
102.000
2016 Fatalities per day (source: FARS)
6693.000
2015 Injuries per day (source: GES)
Frequently Asked Questions