Wearing the right motorcycle helmet can mean the difference between life and death. We know it can also mean the difference between a comfortable and miserable ride. As you search through the many options—online and in stores—we have tips to help you find a safe helmet that fits.
Shape

Everyone's head is shaped a bit differently, and that's why helmets come in different shape styles—round oval, intermediate oval (the most common), and long oval. While we all generally have between a round and oval shaped head, it's important to determine your actual shape before buying a helmet. Use a mirror, or have a friend look down on your head from the top. Remember to focus on your head shape, not the shape of your face.
When trying on a helmet, take note of any pressure points on your forehead—a sign that the helmet is too round. Pressure points on the sides of your head indicate a helmet is too oval for the shape of your head. After you buy a new helmet, try wearing it for 30 to 45 minutes to check for pressure points before using it on a ride. These hot spots may not be immediately apparent but can grow into painful problems over time.
Size
When measuring your head, use a cloth tape. Start it just above your eyebrows and circle it around the thickest point in the rear of your head. Cross-reference this measurement with a helmet size chart. A helmet that is too loose will move around or will not sit down completely on your head. A correctly sized helmet will be a little tight, providing even pressure around your head without uncomfortable pressure points. It should not move when you shake your head.
Some helmet manufacturers provide replaceable cheek pads and liners that let you adjust the interior shape and fit of the helmet. Beyond switching out these items or using these features, any alteration to the inside of the helmet will likely result in loss of warranty, and you risk compromising the integrity of the helmet. Your helmet should feel equally snug around the crown and tight in the cheeks.
Style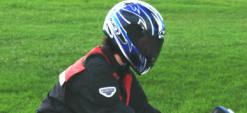 There are several different categories of helmets, each with different features that correspond to the various types of riding and different types of bikes, as well as various price points and safety features.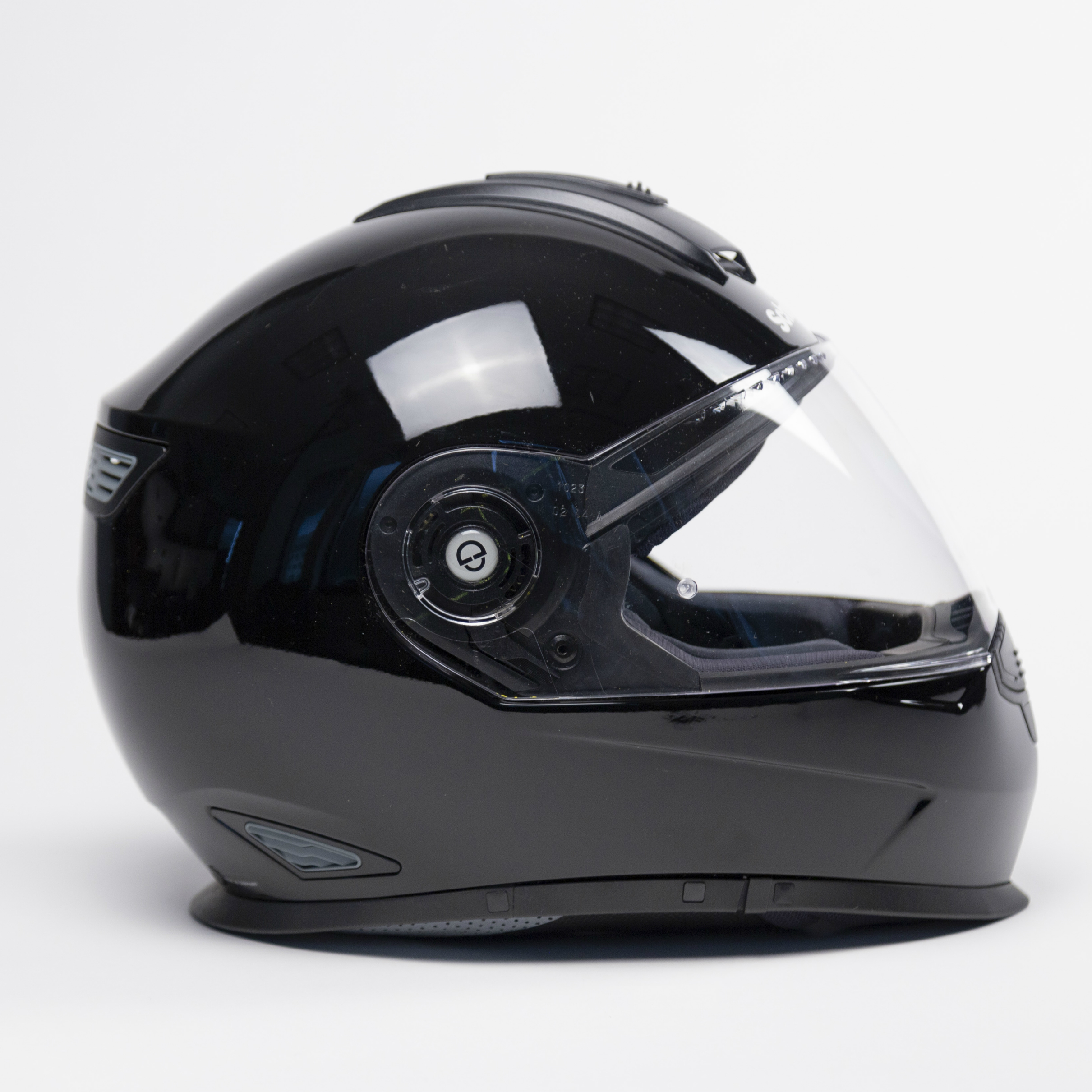 Full Face Motorcycle Helmet
Aerodynamic features
Comfortable
Good ventilation
Modular Motorcycle Helmet
Can be full-face or open-face
Common with adventure dual-sport riders
Good airflow and keeps dust and dirt out of your face
Dual-Sport Motorcycle Helmet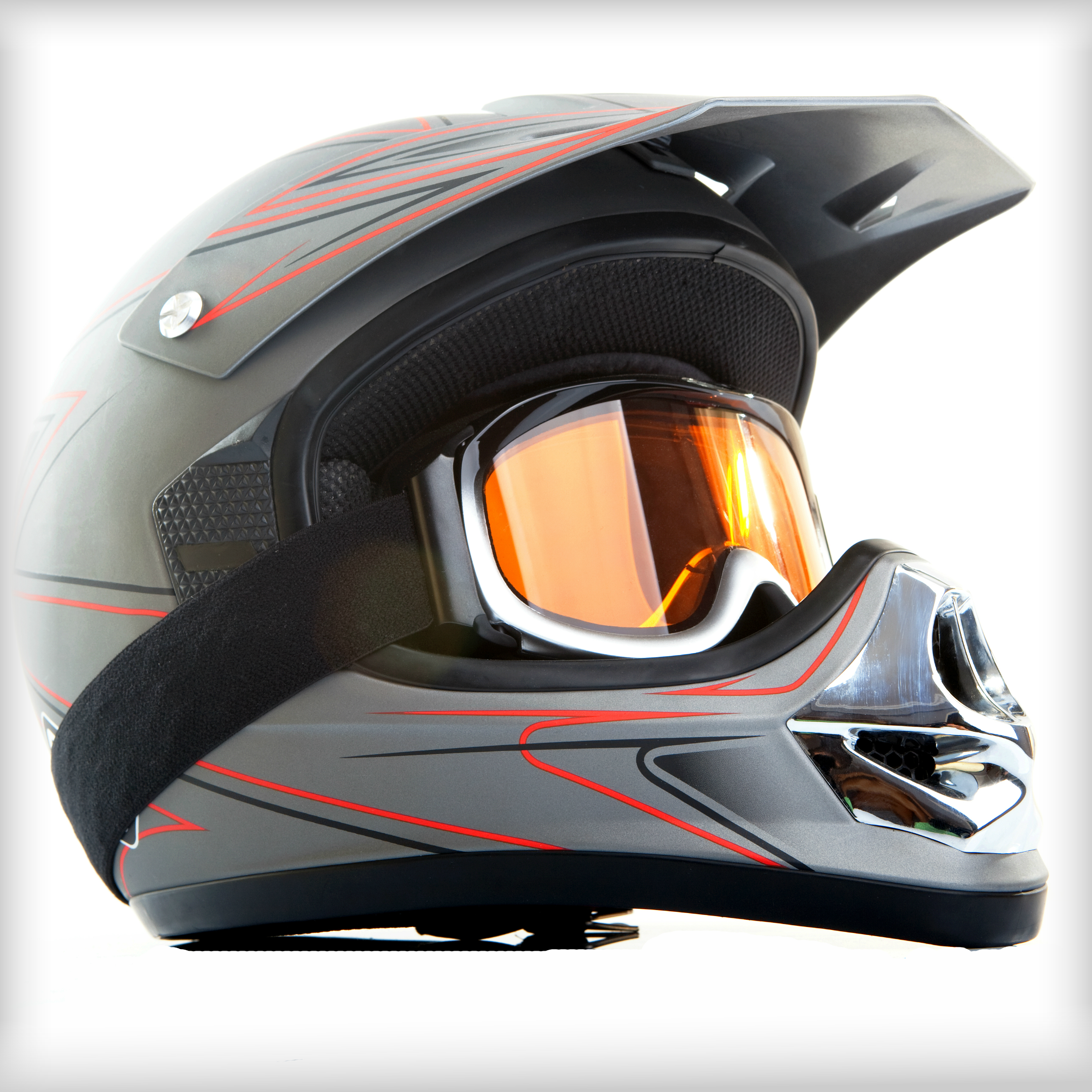 Traditional models: Extended chin bar and visor, require goggles
Newer models have integrated face shields
Good for all types of off-road adventures and weather conditions
Off-Road Motorcycle Helmet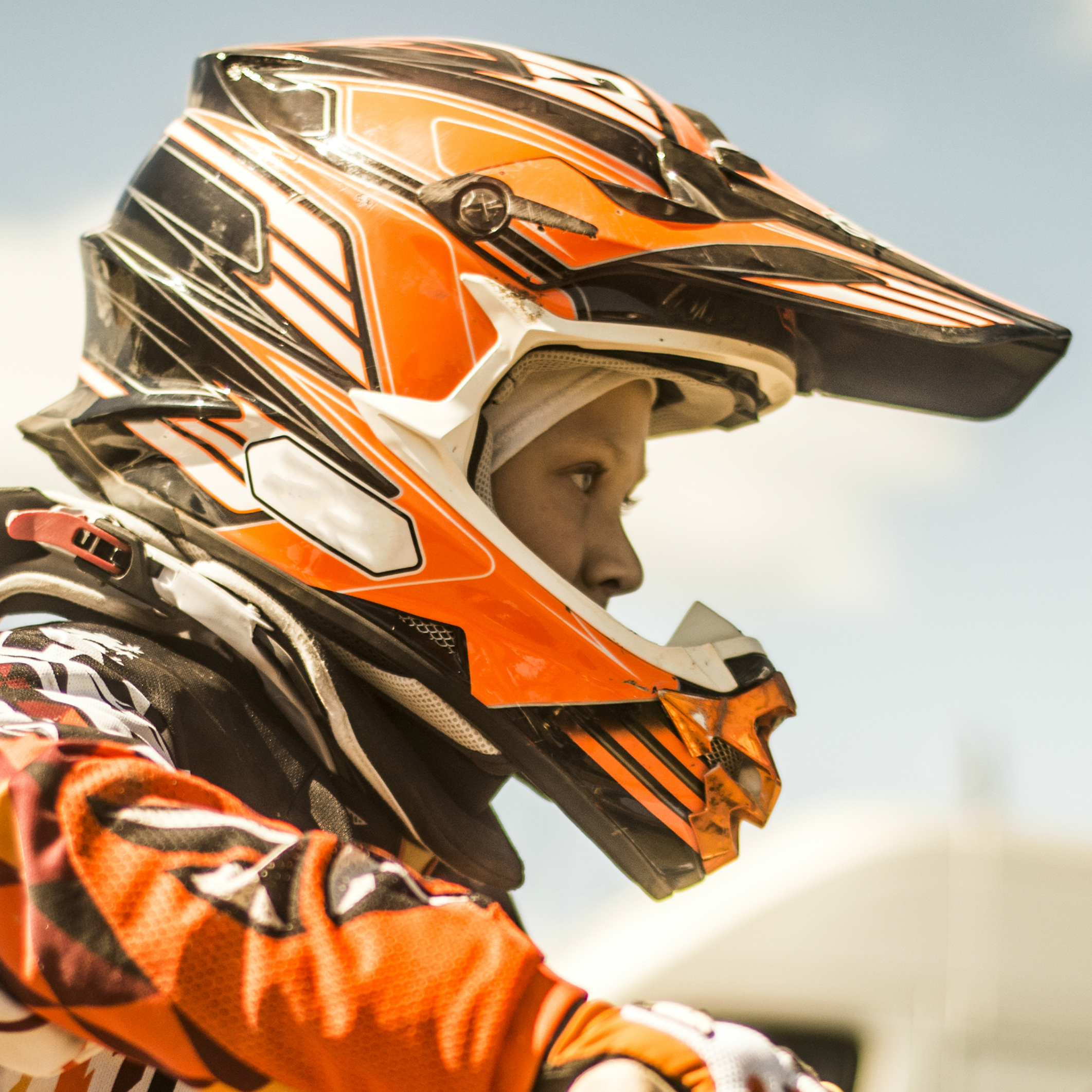 Extended chin bar and visor, require goggles
Good for motocross, other off-road activities
Good airflow
Hi-Viz Motorcycle Helmet
Significantly increases your ability to be seen
Offers an additional level of safety
Available as an option on many helmet styles
Half Helmets and Open-Face Helmets
Only provides some level of protection
No chin guard, which increases safety risk
Significant wind noise
Make sure your helmet has the DOT symbol on the outside back; this means it meets our Federal Motor Vehicle Safety Standard (FMVSS) No. 218.
NHTSA does not approve helmets, or any other motor vehicle equipment, instead relying on a self-certification process. However, we conduct tests on some helmets to make sure they meet our standard. While our selection is typically random, we do take into account feedback and complaints from consumers in determining which helmets to test each year. If a helmet does not meet our standard when tested, we can issue a formal recall of the helmet, requiring that it be removed from stores. Our findings are posted to an online database.
DOT-compliant helmets sold in the United States must have a label on the back that contains the following wording and information: manufacturer and/or brand, model designation, DOT, FMVSS No. 218, CERTIFIED.
Labels on certified helmets made before May 13, 2013, simply read DOT.
While all motorcycle helmets sold in the United States are required to meet the federal standard and have the DOT certification label, there are online and brick-and-mortar retailers who sell what are known as "novelty helmets" that do not meet our safety standards. There are also fake DOT labels being sold to put on these unsafe helmets.
Novelty helmets are unsafe and will not protect you in the event of a crash. They should not be purchased and should not be worn while operating or riding on a motorcycle. If you are unsure of whether a helmet is unsafe, click below for some tips that can help you identify unsafe helmets.
Unsafe helmets will be less than 1 inch thick, and usually lack a stiff foam inner liner.
Helmets meeting the DOT safety standard have sturdy chin straps with solid rivets. Unsafe helmets may have plastic buckles that can easily break in the event of a crash.
Depending on design, unsafe helmets may weigh a pound or less. Helmets meeting the federal standard generally weigh about 3 pounds.
Be suspicious of helmets with advertisements such as "thinnest helmet available" and "lightest weight helmet."
The DOT safety standard does not allow anything to extend further than two-tenths of an inch from the surface of a helmet. For example, while visor fasteners are allowed, a rigid spike or other such decorations indicate an unsafe helmet.
A design such as the German Army or skullcap style may be a clue to an unsafe helmet. Unsafe helmets are noticeably smaller in diameter and thinner than ones meeting the DOT standard. However, some German Army style helmets may meet federal requirements.