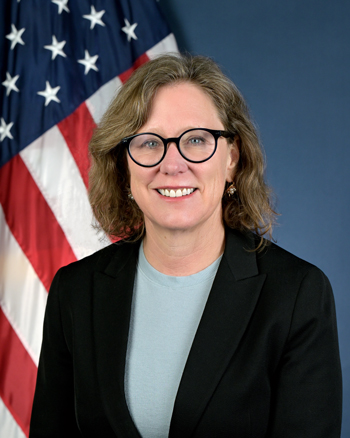 Ann Carlson, NHTSA's Acting Administrator, oversees the nation's vehicle safety agency that sets vehicle safety standards, identifies safety defects and manages recalls, administers hundreds of millions of dollars in grants to State Highway Safety Offices, and educates Americans to help them drive, ride, and walk safely. NHTSA's work also includes establishing fuel economy regulations and helping facilitate the testing and deployment of advanced vehicle technologies. Carlson previously served as NHTSA's Chief Counsel, where she played a critical role in advancing the agency's safety mission. She oversaw an unprecedented action to issue a Standing General Order requiring timely reporting of critical safety data related to vehicles equipped with automated driving systems and advanced driver assistance systems; initiated formal rulemaking to require automatic emergency braking and pedestrian automatic emergency braking in light- and heavy-duty vehicles; and helped secure a historic 50% increase in funding and staffing resources for the agency under the Bipartisan Infrastructure Law. Carlson also oversaw the issuance of the most stringent year-over-year increases in light-duty fuel economy standards since NHTSA began setting standards, as directed by President Biden's Executive Order 13990. 
Before joining NHTSA, Carlson served on the faculty at the UCLA School of Law, as the Shirley Shapiro Professor of Environmental Law and the faculty co-director of the Emmett Institute on Climate Change and the Environment. She also served as the California Assembly's representative to the Independent Emissions Market Advisory Committee and won three teaching awards, including the highest honor awarded by UCLA.
Carlson graduated magna cum laude from the University of California, Santa Barbara, and Harvard Law School, and has co-authored a leading environmental casebook, co-edited a book Lessons from the Clean Air Act, and written numerous environmental law publications.