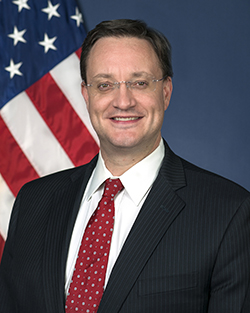 James C. Owens serves as the Deputy Administrator of the National Highway Traffic Safety Administration (NHTSA), leading a safety organization with a budget of $966.2 million and 626 full-time employees across the country. In this capacity, Mr. Owens leads the execution of NHTSA's mission of setting safety standards for motor vehicles and vehicle equipment, facilitating the testing and deployment of advanced vehicle technologies, rooting out vehicle defects, and educating Americans to help them drive, ride, and walk safely.
Before coming to NHTSA, Mr. Owens was Deputy General Counsel of the U.S. Department of Transportation for more than 2 years, and he also served as the Department's Acting General Counsel in mid-late 2017. In these roles, he helped oversee the activities of the Department's lawyers covering every mode of transportation. Mr. Owens also coordinated with senior leaders and career experts on the Department's efforts to enhance safety for the traveling public while identifying and reducing unnecessary burdens, streamlining the infrastructure permitting process, and ensuring that the Department's regulations accommodate innovation in a safety-conscious and technology-neutral manner.
Before joining the Department, Mr. Owens was an attorney for the Federal Energy Regulatory Commission for 5 years, where he worked to protect consumers and the integrity of the nation's energy markets by investigating and bringing enforcement actions for fraud and market manipulation. Prior to his Federal service, Mr. Owens had a broad-based litigation and regulatory practice at law firms in Washington, DC, and he clerked for Judge Danny J. Boggs on the Sixth Circuit. Before graduating from law school, Mr. Owens taught history as a graduate student at the University of Virginia.
Mr. Owens received a Ph.D. and M.A. in History, as well as a law degree, from the University of Virginia, and he graduated magna cum laude from James Madison University. He grew up in the Shenandoah Valley, and lives with his family in Virginia.