Every vehicle recall is serious and affects your safety. That's why Vehicle Safety Recalls Week, which begins March 6, focuses on the importance checking for recalls and getting any unrepaired recalls fixed immediately. You should check for open recalls at least twice a year as hundreds of recalls are issued a year and some recalls are updated. For example, in 2022, several Takata air bag recalls were upgraded to "Do Not Drive" warnings.
Check for Recalls
3 Steps to Check Your Vehicle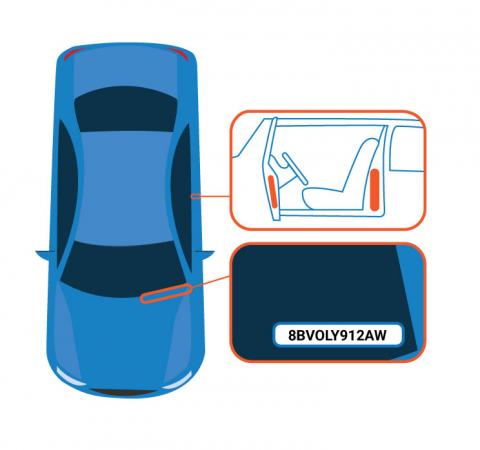 1. Find your Vehicle Identification Number (VIN). Look for the 17-character VIN on the lower left of your car's windshield, or on the label inside your driver side doorjamb (see example). You might also find your VIN on your vehicle's registration or your insurance documents. 
2. Search using your VIN at NHTSA.gov/Recalls. Your search will tell you if there's an open safety recall affecting your vehicle and what steps to take.
3. If you have an open recall, immediately get your vehicle repaired for free at a local dealership. Follow the steps indicated by the response to your VIN search. Your vehicle's manufacturer is required by law to address your recall — and, again, it's a FREE repair.
Check Car Seats, Tires, and Vehicle-Related Equipment, Too
Recalls are also issued for child car seats, tires and vehicle-related equipment — like bike racks. If any of these items are recalled, manufacturers are required to fix the problem by repairing it, replacing it or offering a refund. You can check for these safety recalls at NHTSA.gov/Recalls.
SaferCar App Checks for Recalls Year-round 
With NHTSA's free SaferCar app, you can get recall information sent to your phone. Simply download SaferCar, for Android and iOS, add your vehicle and equipment, and we'll send you an alert if a safety recall is issued. 
If you've already downloaded the app, Vehicle Safety Recalls Week is a good time to open the app and make sure your vehicle and equipment information is up-to-date. 
The Stakes
In 2022, there were 932 vehicle safety recalls affecting more than 30.8 million vehicles in the United States. Yet, millions of vehicle recalls go unrepaired or unaddressed every year.
Vehicle Safety Recalls Week coincides with the week leading up to daylight saving time. Traditionally, this day has been a cue to check smoke detector batteries as you change your clocks. You should also make it a habit to check for vehicle safety recalls when daylight saving time begins and ends.