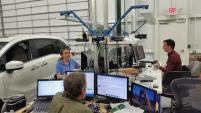 This initiative would work with the Automotive Information Sharing and Analysis Center (Auto-ISAC) to pilot test a training curriculum for vehicle cybersecurity professionals with technical staff from the members of Auto-ISAC, and other interested public members; tune and finalize the training program; and explore establishing a certification program through an accredited academic institution.
NHTSA's vehicle cybersecurity best practices identify workforce development and continuous education as crucial steps in improving the cybersecurity posture of motor vehicles. Auto-ISAC has also set this as a top goal for their organization and members.
Pilot testing and finalization of a tiered training program on vehicle cybersecurity, which can be offered and sustained without government support after the pilot testing.
Potential certification and credentialing of automotive cyber practitioners and cyber analysts by an accredited institution.
Improved collaboration and information sharing among automotive industry stakeholders going through multiple weeks of training side-by-side.
Importance of Cyber Education
[Excerpt from our Best Practices]
Education
Continually educating the existing workforce and educating the workforce of the future are crucial steps that will assist industry with improving the cybersecurity posture of motor vehicles. Cybersecurity educational activities should not be limited to the current workforce or technical individuals, but should also enrich the future workforce and non-technical individuals. NHTSA encourages the automotive industry to work with universities to develop curriculums that further skillsets useful across a range of practical security applications, including the field of vehicle cybersecurity.