The National Highway Traffic Safety Administration is an operating administration of the United States Department of Transportation and is the federal agency responsible for improving motor vehicle safety on United States roadways. As part of our mission, NHTSA develops certain standards for motor vehicle safety and reporting. Under NHTSA's regulations, each motor vehicle must contain a vehicle identification number, also known as a VIN, which is a 17-character number that encodes specific information about the particular vehicle.
On NHTSA.gov, you can query a particular vehicle's VIN to identify specific information encoded in the number. NHTSA's VIN decoder is publicly accessible at: https://vpic.nhtsa.dot.gov/decoder/.
Using NHTSA's VIN Decoder to Identify a Vehicle's Plant of Manufacture
Among the information NHTSA's VIN decoder provides is information about the vehicle's plant of manufacture. After searching a VIN, you'll see the build plant and country for the vehicle in question. This is a two-step process:
---
Step 1: Go to https://vpic.nhtsa.dot.gov/decoder/ and enter the full VIN into NHTSA's VIN decoder, then click Decode VIN.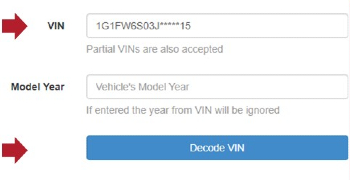 ---
Step 2: Refer to the field at the bottom of the page result, which expressly lists the build plant and country for the searched vehicle.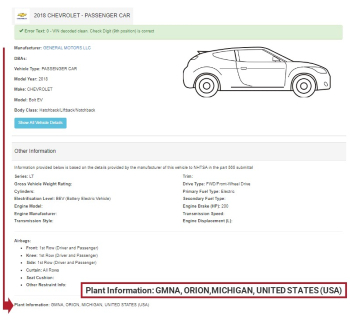 ---
Note: The information displayed through the VIN decoder is reported by the manufacturer. If you have further questions regarding this information, please contact the vehicle manufacturer. In addition, more information may be available on a label affixed to the vehicle. See 49 C.F.R. Part 583.