GHSA Annual Meeting
Connecting Communities: Putting Vision Zero Into Action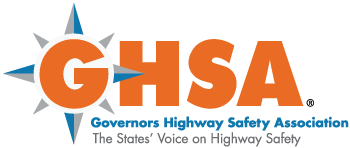 August 12 – 16, 2023
The Governors Highway Safety Association's 2023 Annual Meeting will be held at the New York Marriott Marquis, 1535 Broadway, New York, NY 10036.
---
Resource Links from NHTSA
QUICK LINKS
Traffic Techs | Fact Sheets | Research Notes | Publications | Resources & Training |
Traffic Safety Marketing | Websites | Video | Coming Soon
---
TrafficSafetyMarketing.gov
New
Coming Soon
Eyes Forward. Don't Drive Distracted: Social Norming, Coming late 2023
Drive Sober or Get Pulled Over: Alcohol-Impaired Driving; Paid Media Dates: August/Labor Day: August 16 – September 4, 2023; Winter Holiday Season: December 13, 2023 – January 1, 2024
Thanksgiving Holiday Travel: November 23-26, 2023; Buckle Up - Every Trip. Every Time.
Thanksgiving Impaired Driving November 23, 2023; Buzzed Driving Is Drunk Driving and If You Feel Different, You Drive Different
Motorcycle Safety/Motorcycle Safety Awareness Month: May 2024
Bicycle Safety Month: May 2024
Click It or Ticket 2024: May 20 – June 2, 2024
Coming Soon to NHTSA.gov
Guide for Traffic Safety Practitioners: Best Practices for Increasing Seat Belt Use in Rural Communities

This guide was based on a thorough review of available information on successful rural traffic safety programs and programs in other public health domains. It provides background information to help the reader better understand the different types of problems a traffic safety practitioner may face in rural communities, how to identify an approach that will likely work in each locale, how to implement a rural seat belt program, and how to evaluate whether the program was successful. The guide includes links to numerous other documents or web-based resources to provide a launching point for anyone interested in finding ways to increase seat belt use to further improve traffic safety in rural communities across the United States.

Updated National Motorcycle Safety Resources

To provide relevant information as we navigate the national direction of motorcycle safety, NHTSA is working to concurrently update the following foundational motorcycle safety resources using information that is current, relevant, scientifically based and proven.

National Agenda for Motorcycle Safety (NAMS) 2006
Model National Standards for Entry-Level Rider Training (2011)
Model National Standards for State Motorcycle Rider Training Programs (2014)

Updated EMS Infographics

Improving Emergency & Trauma Care Infographic
When Ambulances Crash

COVID-19 and Prehospital Post-Crash Care

This Research Note looks at how COVID-19 pandemic-related changes may have affected prehospital post-crash care and motor vehicle crash outcomes. The study first analyzes MVC data from the National Emergency Medical Services Information System (NEMSIS), a national database of prehospital medical care, and Revised Trauma Scores, which correspond to probability of survival. The study then reports the findings of a literature review on COVID-19 impacts to the emergency response environment and health of first responders during the pandemic. Emergency medical personnel, researchers, traffic safety specialists, and others involved with highway safety programs may find this Research Note useful regarding planning for extreme emergency situations and prehospital post-crash care.

Best Practices of Successful State Impaired-Driving Task Forces

This report details the methodology and results of a study to understand best practices of successful State impaired-driving task forces. The study of impaired-driving task forces included a review of the literature, focusing on State-level reports, to understand the extent to which States convene impaired-driving task forces in order to recommend impaired-driving countermeasures. Researchers then interviewed officials of nine task forces across NHTSA Regions to understand their context, operations, and best practices.

An Evaluation of North Dakota's 24/7 Sobriety Program

Sobriety monitoring programs such as "24/7 Sobriety Programs" are interventions that focus on the substance use of repeat and multiple offenders. These programs require participants for a prescribed period to provide proof of sobriety with frequent (daily or twice daily) substance use tests or with an alcohol monitoring device. An important component to 24/7 Sobriety Programs is penalizing violators with "swift, certain, and modest" sanctions such as one or two days in jail. This study conducted a process and outcome evaluation of the North Dakota 24/7 sobriety program, with a focus on the effects of a State law that requires program participation for repeat offenders.

Review of Risk Communication Strategies and Existing Alcohol-Impaired and Distracted Driving Safety Messages

To improve traffic safety communication campaigns, two related projects were conducted under separate sponsorship. The primary project (sponsored by the Volpe Center) was designed to identify promising behavior change theories that can help increase the effectiveness of traffic safety campaigns and provide guidance on how to implement them in communication campaigns. A secondary project (sponsored by NHTSA) took place in conjunction with the primary project and extended the primary project's activities to include the topic of occupant protection (OP) use. OP includes both seat belts and child safety restraints. This report documents the supplemental activities and results. Twenty-nine behavior change theories and 14 OP campaigns were considered. This project was conducted under the National Cooperative Research and Evaluation Program, a cooperative program between NHTSA and GHSA.

Updated Literature Review of the Effects of Medical Conditions on Driving

This effort presents an updated synthesis of research findings describing the effects of medical conditions on driving performance and safety. A preliminary literature search and a discussion with driving safety professionals provided information that was used to select the medical conditions for systematic review: Attention Deficit Hyperactive Disorder (ADHD); Autism Spectrum Disorder (ASD); Cardiovascular Disease (CVD); Diabetes; Mild Cognitive Impairment (MCI); Obstructive Sleep Apnea (OSA); Peripheral Neuropathy; Stroke; Syncope; and Traumatic Brain Injury (TBI)/Concussion. An improved understanding of the potential effects of medical conditions on driving may be useful for physicians and other health care providers, licensing agencies, and traffic safety researchers.