Planning Safer School Bus Stops and Routes
Student Safety
While school buses provide the safest mode of school transportation for K-12 students, from 2012 to 2021, there were 206 school-age children who died in school-transportation-related crashes, with 78 of those children being pedestrians. Children who ride school buses are the most vulnerable when waiting at bus stops, loading or unloading from buses, or while walking between bus stops and their homes – that is, while they are pedestrians. Pedestrians are considered vulnerable road users who are at a higher risk of being involved in fatal traffic crashes. Therefore, it is important to consider the inherent safety risks of children gathering at school bus stops and their travel paths between their homes and school buses. As part of a comprehensive program to improve safety related to school buses, NHTSA developed this pupil transportation toolkit, which includes an interactive tool for planning safer school bus stops and routes. This guide highlights best practices in selecting safer school bus stops. It was created in 2022 to not only update previous considerations for developing safer school bus stops, but also to incorporate considerations for school bus routes and pedestrian paths.
This product is referred to as a toolkit because it is designed to be a user-friendly resource that practitioners can easily apply when making decisions about school bus stops and routes. The toolkit can be used to evaluate existing stops, respond to parent requests for stop reviews, or to create new stops. This toolkit is intended to help you in developing safer school bus stops and routes, while also considering the resulting pedestrian travel paths. It will identify policies and laws that must be considered in the planning process and will provide best practices, examples, and considerations for developing safer school bus stops and routes.
The toolkit is designed to reflect safety considerations that are inclusive of all users of school transportation systems by recognizing the characteristics, risks, and behaviors of children of all ages. The toolkit takes a Safe System approach, considering the impacts of and interaction among various aspects (e.g., child pedestrians, the school bus, other vehicles, environmental factors) of a child's journey to and from school.
This toolkit will provide useful information and resources including the following:
Description of safe school bus stops and routes and why they matter
Identification of key decision-makers for school bus stops and routes
Statistics and crash data for easy reference
Sample policies and laws from a variety of jurisdictions
Best practices for bus stop placement and route development
Example processes/forms for evaluating the safety of stops and routes
Links to relevant resources
In your process of planning, this toolkit will help you with the following:
Identifying key considerations for school bus stops, routes, and travel paths
Selecting safer school bus stop locations
Developing safer school bus routes
Evaluating existing stops or responding to parental requests for a stop review
Overcoming common barriers and challenges
Considering how to effectively exchange information with other groups and organizations
Use the Interactive Tool
The interactive tool allows you to input your specific conditions and requirements pertaining to the bus stop waiting area, walkable infrastructure, and bus routing and the bus stop. It will provide you with considerations tailored to your scenario and needs. This tool can be used at your workstation or on the go. Print your tailored considerations for easy reference.
The Safe System approach aims to eliminate fatalities and serious injuries of all road users. It is a comprehensive approach that recognizes that humans make mistakes and anticipates these mistakes in the design and planning processes to reduce the severity of these human errors. This approach serves as a framework for this online toolkit, which is designed to include the needs and anticipate the behaviors of all transportation system users (pedestrians, children, people with disabilities, etc.) and provides considerations that will help to reduce the risk and severity of crashes at school bus stops or along school bus routes.
The Safe System approach involves anticipating human behavior by designing and managing the infrastructure to keep the risk low and includes design and management strategies that should minimize the impact on the human body so if a mistake does lead to a crash, it does not result in death or serious injury.
The Safe System approach is based on six principles:
Deaths and serious injuries are unacceptable

Humans make mistakes

Humans are vulnerable

Responsibility is shared

Safety is proactive

Redundancy is crucial
There are five elements of action in the Safe System approach:
Safer road users

Safer vehicles

Safer speeds

Safer roads

Post-crash response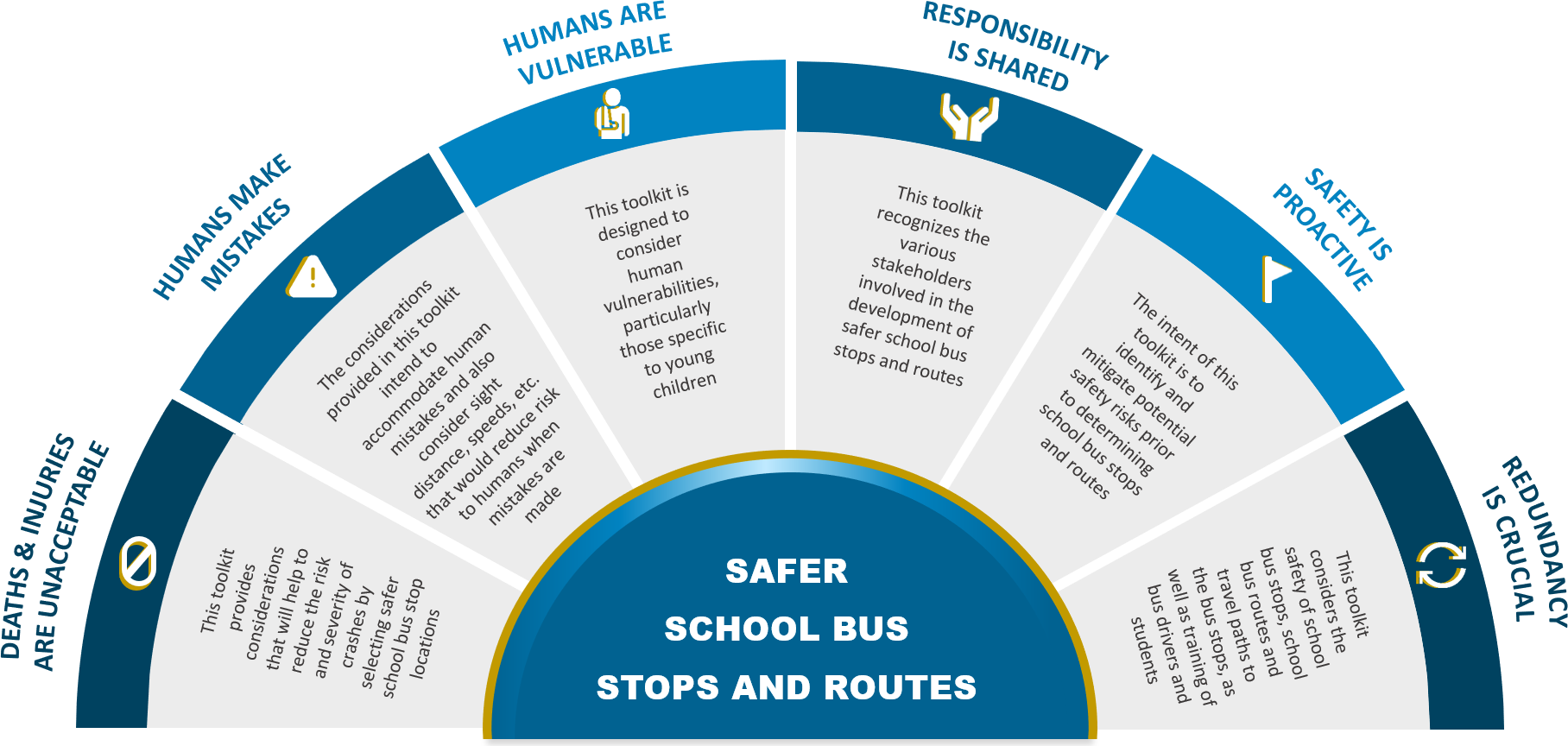 This graphic highlights how each of the Safe System principles have been incorporated into this toolkit.