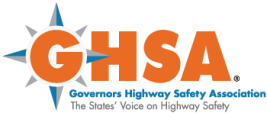 GHSA Annual Meeting 2017
September 16-20
Louisville Marriott Downtown
Louisville, Kentucky

Countermeasures That Work: A Highway Safety Countermeasures Guide for State Highway Safety Offices, 8th Edition
(PDF, 13.75 MB) DOT HS 812 202; November 2015
This 8th edition of Countermeasures That Work is a basic reference to assist State Highway Safety Offices in selecting effective, evidence-based countermeasures for traffic safety problem areas. These areas include: Alcohol- and Drug-Impaired Driving; Seat Belts and Child Restraints; Speeding and Speed Management; Distracted and Drowsy Driving; Motorcycle Safety; Young Drivers; Older Drivers; Pedestrians; and Bicycles. The guide describes major strategies and countermeasures that are relevant to SHSOs; summarizes strategy/countermeasure use, effectiveness, costs, and implementation time; and provides references to the most important research summaries and individual studies.
NHTSA Compendium of Traffic Safety Research Projects: 1985 – 2013
(PDF, 2.5 MB) DOT HS 811 847; January 2014
This compendium contains summaries of over 500 studies and projects published by NHTSA from 1985 to 2013. The studies include research on alcohol-involved driving, drug-involved driving, occupant protection (e.g., seat belts and child safety seats), speed and other unsafe driving behaviors, motorcyclist safety, pedestrian and bicyclist safety, older driver safety, novice and young driver safety, fatigue and distraction, and emergency medical services.
Also, from the Centers for Disease Control and Prevention (CDC):
The Community Guide
This website houses the official collection of all Community Preventative Services Task Force findings and the systematic reviews on which they are based. The Community Guide is based on a scientific systematic review process and includes publications related to motor vehicle-related injury prevention. Three areas included in the guide are child safety seats, seat belts, and alcohol-impaired driving.
Keeping Kids Safe: A Parent's Guide to Protecting Children In and Around Cars (2017 version)

Information on new car safety features to protect children, recommendations for selecting and installing the right car seat for a child and tips for keeping kids safe in and out of vehicles.
Drive Sober or Get Pulled Over Campaign

To support NHTSA's impaired-driving campaign, Drive Sober or Get Pulled Over, NHTSA developed the companion ad for Man/Woman in the Mirror, for the Ride Sober or Get Pulled Over campaign. Motorcycle Man in the Mirror debuted in August 2017, during the warm weather riding months.

New enhancements to NHTSA's Last Call 360 mobile experience
For States
For State use, the Speed campaign has been revamped and features three new ads: No Excuses and Life Flash (English & Spanish). Campaign material also includes—in English and Spanish—new infographics, banner ads, social media tips, mobile data terminal messages for law enforcement, and earned media. Download the ads and all assets at www.trafficsafetymarketing.gov.
African-American Seat Belt Toolkit (April 2016)

NHTSA updated the web-based toolkit to educate African-Americans about the importance of seat belt use in reducing the large injury disparity between them and other American motorists. NHTSA's African-American seat belt toolkit serves as a resource for State and community organizations that is both user-friendly and population specific.

Hispanic Buckle Up Toolkit (January 2015)

NHTSA in conjunction with the National Latino Children's Institute (NLCI) developed a bilingual, bicultural web-based toolkit to educate Hispanics to buckle up on every trip.

The web based toolkit contains: a Video, PowerPoint presentation, posters, palm cards, rotofolio, sticker templates, and radio PSAs. The toolkit is intended for advocates, community groups and law enforcement who work with Hispanic populations.

Behavioral Research Databases