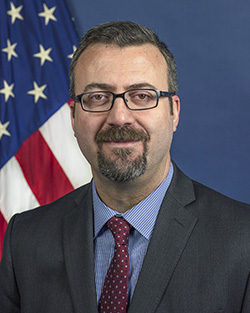 Cem Hatipoglu serves as the Associate Administrator for Vehicle Safety Research at the National Highway Traffic Safety Administration (NHTSA). He is responsible for NHTSA's vehicle safety research activities, which are focused on achieving the agency's mission of reducing fatalities and injuries caused by motor vehicle crashes. This work includes developing and conducting research on vehicle automation, cybersecurity, vehicle connectivity, and vehicle crash safety. Dr.Hatipoglu is also serving as the acting Associate Administrator of NHTSA's National Center for Statistics and Analysis (NCSA), where he is responsible for collecting, analyzing, and disseminating national motor vehicle traffic crash data. NHTSA is a data-driven agency, and Dr. Hatipoglu's role in NCSA is critical in providing direction on major policy and program decisions and regulatory activities.
Previously, Dr. Hatipoglu served as the Director of NHTSA's Office of Vehicle Crash Avoidance and Electronic Controls Research, where he lead the development, execution, and delivery of research and test programs related to vehicle safety, crash avoidance, Automated Driving Systems, electronic controls, and human factors in support of agency vehicle and traffic safety programs and motor vehicle safety standards. Within the Department of Transportation, he also served as the Chief of NHTSA's Electronic Systems Safety Research Division and Program Manager at the Federal Motor Carrier Safety Administration (FMCSA). Prior to his Federal service, Dr. Hatipoglu worked as a technical and business consultant following his tenure in the private sector leading the development and deployment of electronic safety systems for heavy vehicles.
Dr. Hatipoglu earned his Ph.D. in electrical engineering at The Ohio State University and an MBA degree from Case Western Reserve University.