Why Safe School Bus Stops and Routes Matter
89
school-age pedestrians killed in school-transportation-related crashes from 2010-2020*
More than 18 million pre-high school students ride a school bus to school. Although school buses are the safest way to travel to school, students are still killed or injured in school-transportation-related crashes because they are part of the larger transportation system (including other vehicles, walking paths to and from school bus stops, etc.), which involves safety risks. Of the 89 school-age pedestrians that were killed in school-transportation-related crashes from 2010 to 2020, more were killed from 6 to 8 a.m. and from 3 to 5 p.m. than any other hours of the day.
The Safety Data and Crash Statistics section of this toolkit provides links to data sources providing crash data related to school bus stop locations and routes, as well as links to relevant National Transportation Safety Board (NTSB) report findings.
67%
of school-age pedestrians killed in school-transportation-related crashes from 2010-2020 were 5 to 11 years old*
Although it is not possible to select a school bus stop location that is completely free of all risk, there are several factors that can and should be considered and prioritized to select the option(s) with the fewest safety risks. Selecting safer school bus stops and routes requires considering not only the site's specific characteristics, but also the characteristics and behaviors of the students themselves, their travel paths to and from the bus stop, and the path of the bus route itself. This toolkit discusses the safety within this entire school bus stop ecosystem.
---
The NTSB investigation report 'Vehicle Collision with Student Pedestrians Crossing High-Speed Roadway to Board School Bus, Rochester, Indiana, October 20, 2018', identified "deficiencies in establishing safe school bus routes and stop locations" as a safety issue.
---
Decision-Making for School Transportation Routes and Stops
There is no perfect school bus stop because it is impossible to eliminate all potential hazards, but guidelines and training are critical to ensure the safest, most informed decisions.
MICHAEL LAROCCO, INDIANA STATE DIRECTOR OF PUPIL TRANSPORTATION, PERSONAL COMMUNICATION, MARCH 10, 2022
Most school transportation policies are determined at the state and local (i.e., school district) level, with a few exceptions at the Federal level, such as the Commercial Driver's License (CDL) requirement and regulations for transporting students with disabilities. Those staff responsible for establishing school bus stops and routes are charged with adhering to state and school district requirements. This toolkit provides considerations and tools that can be used in states and jurisdictions, with the understanding that state and local requirements must also be met. The information provided in this toolkit is intended to supplement any state and local requirements, not replace them. For more information, see the Common State and District Policies section.
Select the following sections to learn more about the different entities involved in decision-making for school transportation routes and stops:
Most state-level requirements come from state law, policies of state boards of education, and a state's department of transportation regulations. For example, state laws vary in terms of the requirements for opposing traffic to stop for a stopped school bus that is displaying its stop sign and red flashing lights. These laws may vary based on the requirement of a physical barrier, minimum number of lanes, etc.
State laws and policies often affect funding for school transportation that, in turn, affects school bus service. Whether a student's transportation is eligible to be covered by state funding is often related to the distance that a student lives from school, meaning students within a certain distance of a school are often not allotted school bus services. Regardless of funding, however, individual school districts can ultimately determine whether a student has the option to ride a school bus.
For questions about state laws, contact your state's director of pupil transportation. Contact information can be found at nasdpts.org.
Districts can set policies that dictate when exceptions can be made that allow a student living within a certain distance of a school that is normally not allotted school bus services to be provided with transportation at local district's expense.
School district regulations and guidelines determine the kinds of bus stops planned by the transportation department. Best practice calls for equitable planning throughout the school districts. Such planning addresses situations such as when a bus route leaves the main road to travel into neighborhoods, mobile home parks, and gated communities. Policies regarding right-side pickups are also typically addressed at the school district level.
State and local jurisdictions often seek guidance from national sources. There are three national school transportation organizations that provide opportunities for school bus industry professionals to exchange best practices, receive training, and learn more about the industry in addition to furthering school transportation safety:
National Association for Pupil Transportation
National Association of State Directors of Pupil Transportation
National School Transportation Association
NASDPTS members are the state directors who typically manage school transportation policy in their respective states.
Several other agencies also play a role supporting school bus stop and routing decisions. The National Congress on School Transportation is a national body made up of delegated practitioners from each state who meet every 5 years to produce and update the National School Transportation Specifications and Procedures. The National Transportation Safety Board is a Federal agency charged with investigating significant crashes in various modes of transportation, including highway transportation. The NTSB determines probable cause of the crashes it investigates and also provides associated safety recommendations. National associations working with Safe Routes to School traditionally focus on pedestrian activities associated with safely getting to and from school. The same considerations when walking to and from school apply when walking to and from the school bus stop. The 2010 Selecting School Bus Stop Locations: A Guide for Transportation Professionals was created in part by the National Center for Safe Routes to School.
The following graphic presents some of the different stakeholders that have a role in the decision-making related to school transportation routes and stops, including safety.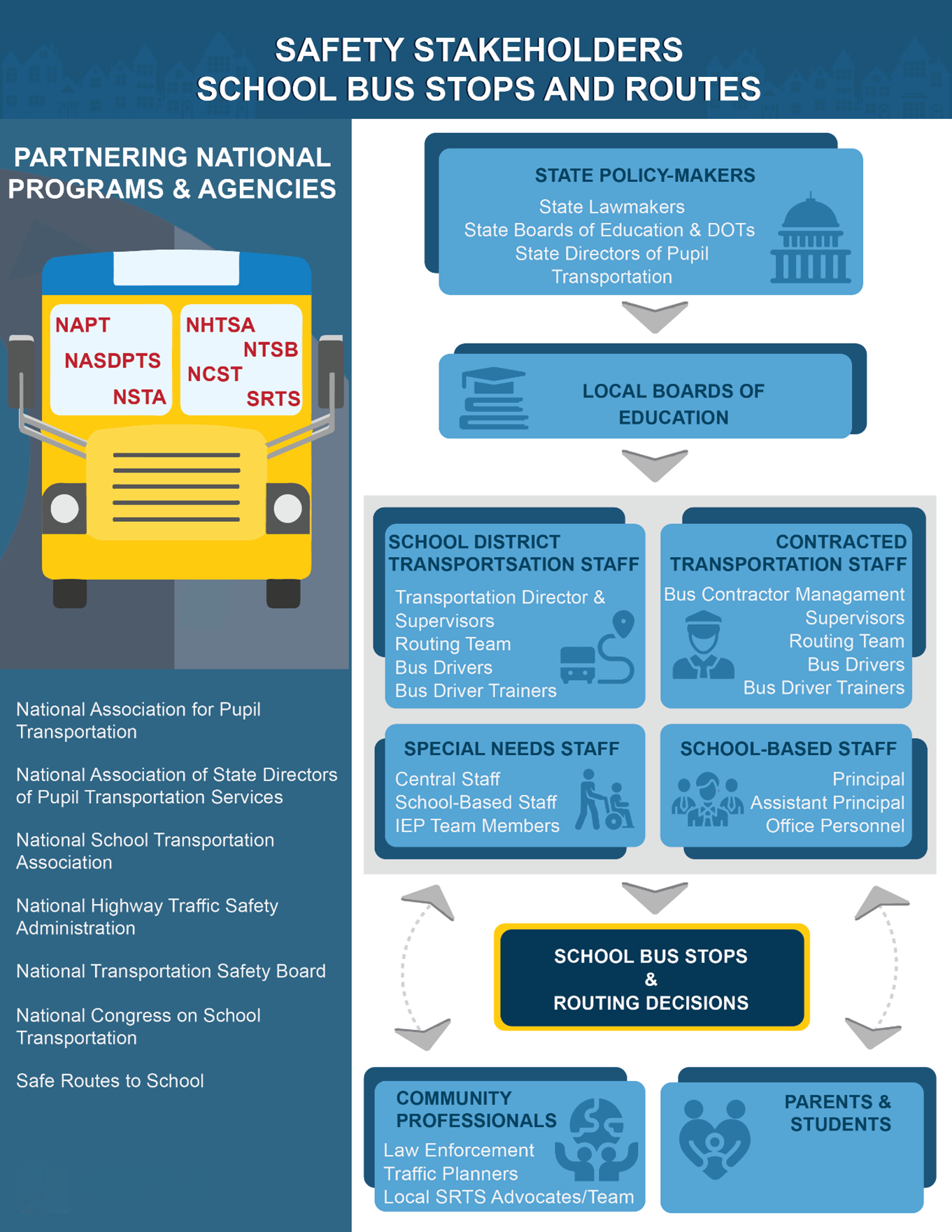 Engaging with other stakeholders is critical for keeping up with best practices in providing safe and efficient pupil transportation. For more information, see the Information Exchange section of this toolkit.